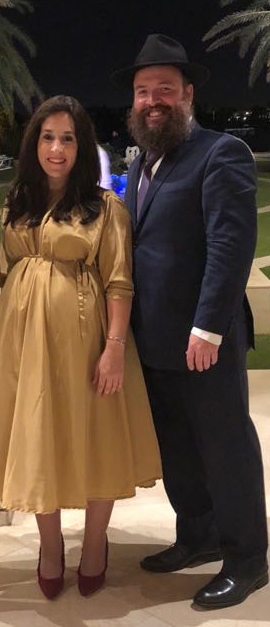 Rabbi Zalman and Rebbetzin Hindel Levitin
Rabbi Zalman, born and raised in New Haven, Connecticut, studied in Yeshivas in Brooklyn, NY; Brunoy, France; and Israel. He received his Rabbinical Ordination from the Central Chabad-Lubavitch Yeshiva. Rabbi Zalman has directed overnight camps of over 300 children. As a young rabbi, he became known for his outstanding leadership qualities, combined with compassion and patience. He has travelled on Chabad tours of duty all over the country and in the Ukraine, Russia and Germany. Known for his warm and enthusiastic personality, he has led services, taught educational seminars and brought the love of Torah to Jews living in the Caribbean Islands; Reno, Nevada; Albuquerque, New Mexico, and Chelyabinsk, Russia. 
For Hindel, growing up next to Chabad Headquarters in Brooklyn, NY, her passion to inspire and reach out is just who she is. After graduating high school with honors, she received her teaching certification. She has years of experience as a successful teacher, music and drama instructor and as program director and mentor for hundreds of high school students. With her loving character and down-to-earth approach, Hindel has brought out the joy of a Torah life to schools and camps all over the country and in Lugansk, Ukraine, and Melbourne, Australia. 
Proud parents of six lovely children, the Levitins form a powerful team bringing warmth, happiness and authentic Torah to the people around them. With their shining personalities and non-judgmental approach, they have touched the lives of many and look forward to welcoming many more.